SIGFest Event Galleries...

2018 Concours d'Elegance Award Winners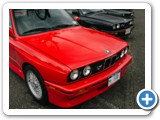 Best of Show: Anthony Fischetti
1990 Brilliantrot E30 M3. It is becoming increasingly difficult every year to pick a winners for this event. Best Of Show at least affords our judges with some flexibility in determining which car grabs and holds their attention (and their vote). This year- Anthony Fischetti's Brilliantrot 1990 E30 M3 with custom M-Inspired road bike grabbed the Best Of Show award.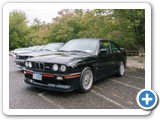 Best Stock: Chet Marfatia
1990 Schwartz Sport Evolution E30 M3. Stock E30 M3's are hard to come by. I mean REALLY stock E30 M3's. They say the only thing constant is change, but the Best Stock award goes to the E30 M3 that has refused to change, and has been left as BMW intended. That distinction this year goes to Chet Marfatia's rare 1990 Schwartz Sport Evolution E30 M3. We all wish we owned this car.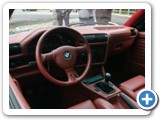 Best Modified: Ricardo Oliveira
1990 Diamontschwartz E30 M3. The majority of E30 M3's are modified (personalized) in one way or another. For the Best Modified award, we told our judges to forget original paint, original BMW interior choices and the like and to agree on a car that has undeniably become its owner's canvas. This year- Ricardo Oliveira's extra wide body 1990 Diamontschwartz metallic E30 M3 took the Best Modified prize.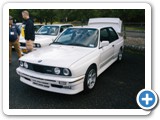 Road Warrior: Jason D'Agrosa
1989 Alpineweiss E30 M3. E30 M3's are meant to be used and enjoyed, so the Road Warrior award goes to the E30 M3 that has been there and done that. Enter Jason D'Agrosa's Alpineweiss 1989 E30 M3. This car has travelled almost 200,000 smiles, and still has its original cracked wing paint to show for it. Keep it going, Jason!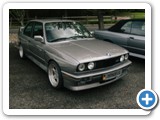 Dedication Award: John Henriquez
1988 Lachsilber E30 M3. There are amazing cars, and there are amazing enthusiasts. The Dedication award honors one of our many heroes that keeps the passion for these cars alive. This year, that distinction goes to our very own John Henriquez. John has been a long time SIGFest supporter, and years ago offered to help turn the event into the mature event it has become- thanks to his passion, enthusiasm and mad computer skillz. Thanks for all you do, John!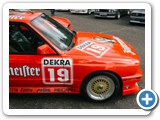 SIGMeister's Choice: Steve Valeski
1988 Hennarot E30 M3. Sometimes you love something, but you can't quite figure out why. We don't need no stinkin' reason to award the SIGMeister's Choice award. This is strictly for the SIGMeisters (James, John and I) to decide- and it's always a fun debate to figure out who's taking it home. This year we decided to give the SIGMeister's Choice Award to Steve Valeski (AKA the guy with the Jaegermeister car). Steve is the original owner of his 1988 Hennarot E30 M3, and it takes a true enthusiast to drive in a car with a cage and full racing livery. Steve has only missed 2 or 3 SIGFests ever (and that's saying a lot, as we are approaching our 20th year).